Products
iICO

A free, fully featured icon editor that can handle anything from 1 to 32 bit icons.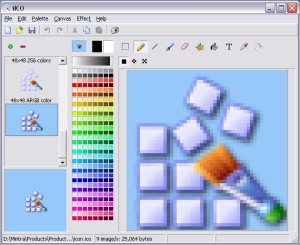 iICO is an extremely versatile free icon editor for Windows. It is capable of handling both icon and cursor files, plus the semitransparent icons in Windows XP.
It can accept input from a wide variety of formats, converting them smoothly to icon size with very little loss of clarity. Many Mintra Systems product icons (including the one for iICO) were made using this program.
A full set of help pages is included with the product, and you are welcome to use the support page and email address for any questions.
Unfortunately iICO is currently not being updated. The legacy Visual Basic 6/GDI+ environment that iICO was written in means porting it to be able to deal with Windows Vista icons would be very time consuming. However, as usual we have found you an alternative, which we now recommend if your requirements cannot be satisfied by iICO.